I had never watched The Super Bowl – NEVER! The closest thing to it was the "Bowl" of rugby. That all changed last night when for the first time I decided that was going give this American Football a try. Noticed I said American Football instead of just football? Because I still see it that way – a very much an all-American sport. Although, we do have a few Canadians playing in the NFL.
So yes! This was my first time watching the Super Bowl! And in fact, this was my first time ever even watching one full game of American Football! And boy oh boy, what a game it was! I don't know (yet) if I will ever truly become a fan of the sport, but I will be joining in the festivities of the Super Bowl next year!
Before I get to the obvious part of why it was such an amazing Super Bowl, let me explain
Why I have never watched the Super Bowl until now.
The reason is quite simple to be frank. I come from a rugby background and American football looks a bit like rugby. The ball is very similar, the 'try' lines are very similar, the goal posts same and serves a bit of a similar purpose. It is also a very brutal contact sport.
However, the gameplay and the rules are completely different. That was the very thing that threw me off and turned me away from the game!
In rugby, you never pass forward – always back and move forward with the ball. But with football, you can and almost always pass forward.
In football, there is a lot of stopping where as rugby is a much faster paced game with no such stoppage unless a rule has been violated or the ball goes out of play. It drove me mad to see the game stop every 10 seconds.
They wear all this gear which at first made it difficult to know who was who. In rugby, players don't wear such gear. It's a much more dangerous game to me(personal opinion) and I always thought that is the way a contact should be play – a bone crushing, fast paced, heart pumping action packed game. Why the protective gear?
Lastly, I never really bothered to learn the rules or understand the strategies behind certain kinds of play. One can't really enjoy a sport if one does not know what is going on.
But enough with that. Let's talk about yesterday's game.
Yesterday's Super Bowl Made History.
(source: http://www.nfl.com/news/story/0ap3000000783986/article/at-least-30-records-set-or-tied-in-super-bowl-li )
Most appearances by head coach: Bill Belichick (7)
Most wins by head coach: Bill Belichick (5)
Most career passing TD: Tom Brady (15)
Most appearances by team: Patriots (9)
Most first downs in a Super Bowl by both teams: Falcons and Patriots (54)
Most passing first downs in a Super Bowl by both teams: Falcons and Patriots (39)
Most passing yards in a Super Bowl by both teams: Falcons and Patriots (682)
What an Experience!
But honestly, I'm not a huge fan of stats. I'm all about the experience a huge sporting event brings. I've never seen any team pull a come back like that. Yes, I know, you must be thinking about how I can even say that when this was my first super bowl ever.
The super bowl can be compared to any championship game. You can draw parallels to the intensity and the pressure that is there for the players and coaches and the high expectations from the audience and the on the edge of your seat drama in every minute.
All this is part of any major championship game regardless of the sport. To make a huge come back after being down to that degree is almost impossible for any team.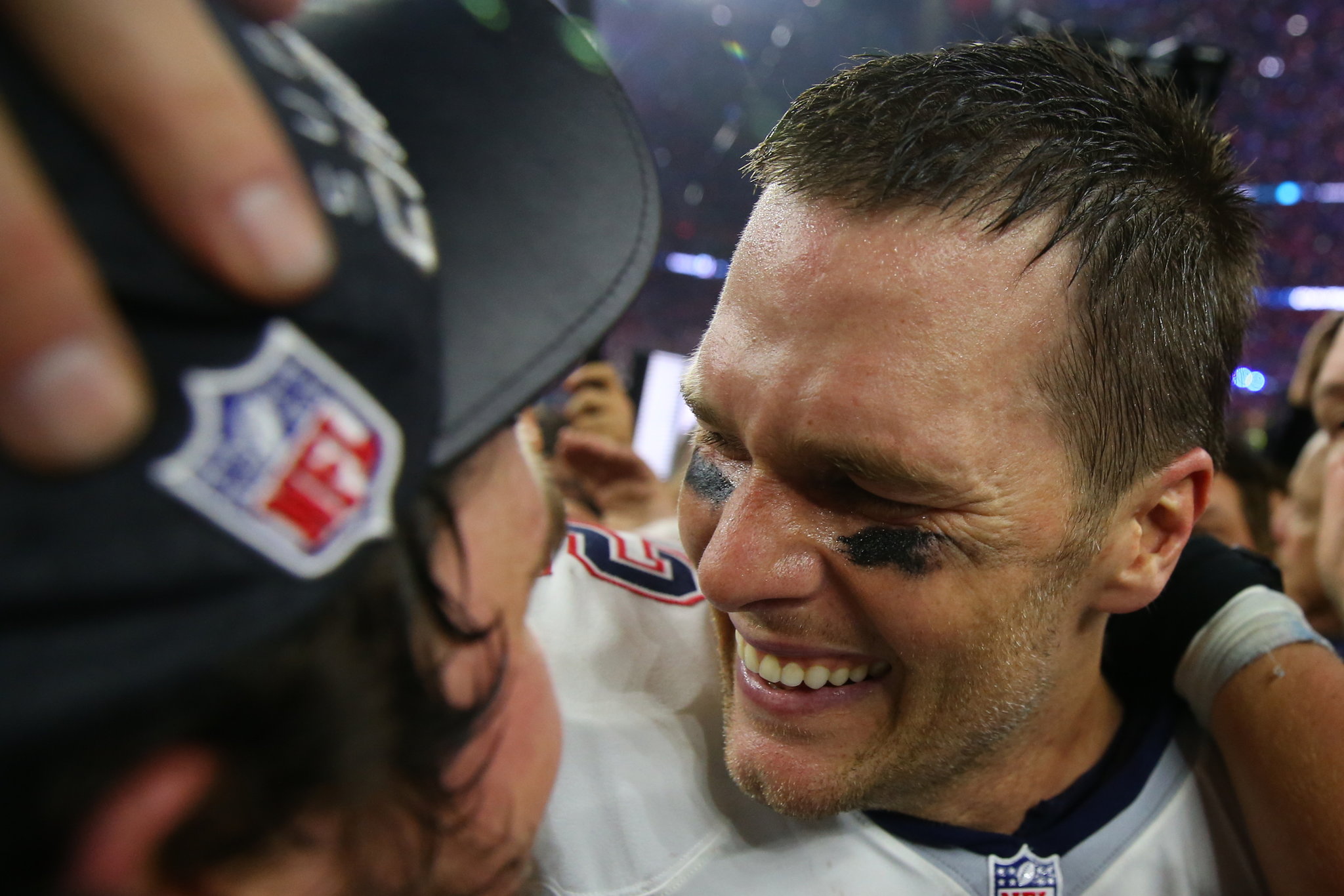 I have heard so much about Tom Brady and the New England Patriots, and now I can see why. That man had a look of an unbreakable conviction. When they were down in the first half, you could see a man who was not frustrated, not afraid, not given up. It was a look of a man, who was looking for a way, looking for some way to turn this around by focussing on the next immediate step – he was going to win that one step at a time.
In the second half when the Patriots scored their touchdown, you could see that search turn into a conviction. He is a true leader of the game. Most players and even most leaders would get under pressure and it would show on their faces. Either they would have given up, or after getting frustrated they would have started to fumble and make mistakes. Not Tom Brady.
I have new found respect for the sport of Football – yes I said football and not American Football.
That's my take on a freaking amazing super bowl.