Science fiction is my favourite movie genre .I even took a humanities course in university on science fiction. Yes I'm that obsessed. My favourite sci-fi sub genre is time travel. Here are the 5 movies that I think you must watch. They are not necessarily all the very best in the time travel class, but there are a number of reasons ranging from the 'classic' factor to just plain fun to watch.
Primer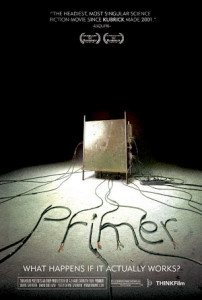 This is one the most novel time travel movies. It's made in a very natural down to earth kind of way and watching it almost feels like you're watching a home movie of people who are involved in a startup company that builds time travelling machines at the same time it never falls short of interesting. Most sci-fi movies are overly dramatic with extreme visual effects, however this movie portrays a very realistic looking story telling technique combined with a gradual pacing that builds in intensity and complexity while at the same time leaving the viewer in a state of puzzle solving that is required to stay with the unique flow of the movie. The entire movie was costs only around $7000 which goes to show you don't need a huge budget to tell a very compelling story.
The story revolves around 2 engineers who while working on a device to reduce the weight of my object with 2 other people discover a strange side effect of the device that they were creating and thus begins their adventure. At first they use it to make money then things start to go out of hand with multiple time lines all intersecting, something chaotic happens, friendships are affected and then there is the way that the movie ends. Any lover of sci-fi needs to watch this movie.
Predestination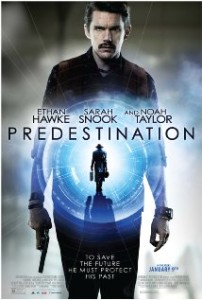 This has to be the best time travel movie every made. It is sad how little recognition this movie had received. I cannot say much because to tell you about the movie would be to give away major spoilers.
It has all the time travel paradoxes and time loops you can think about. It is also a bit of an emotional movie. As the movie progresses you start to sympathize with the characters in the movie. The first 20 or 30 minutes of the movie gradually traverses the conversation between the two main characters and then it jumps a level of action with a jump in the time line, each time weaving the lives of the characters into the story. One of them is a time travelling cop whose job is to prevent crimes before they takes place. One of the characters is looking for purpose after heart breaks and defeats, then there is a bomber who seems to succeed in destroying and killing lives no matter how hard the time travelling agents try to stop him. Finally there is a new time travelling agent recruit. There are major twists in the movie which I cannot say anything about. Yes it's about time travel, but it's also about love, betrayal, destiny, fate, time-travel paradoxes. All in all: This is a MUST see movie.
Ground Hog Day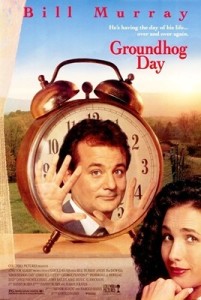 Now, I know that this movie isn't really a true time travel movie or even true science fiction, but it does have a time loop. The main character is a selfish, self absorbed weather reporter who experiences the same day again and again. Care to guess which day?
Yes, Ground Hog Day. It's the journey of a person who evolves from a self absorbed person to a frustrated person, to someone who starts caring about other people and learns about their lives then later becoming someone who focusses on himself but in a personal growth and appreciative kind of way. In a lot of ways Ground Hog day is just about a story about everyone. It shows you the possibility of learning and mastering things in life and stimulates the imagination – what if you could live the same day over and over again? Would you be happy, sad, frustrate, angry? And if so why? What would you do? How would you handle it? Will it be a curse or a gift?
Back to the Future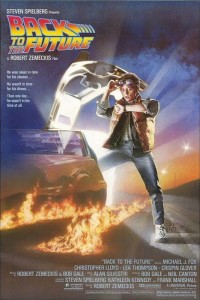 There is no other movie that is loved as much as this. Back to the Future is a classic! The story is about a teen named Marty McFly who gets thrown back in time when his parents were teens in high school. He is faced with the challenge of making his parents meet and fall in love so that he exists in the future. There are moments when the possibility of his father and mother connecting and falling in love reduces and Marty begins to fade out of existence.
There isn't much of hard science fictions in this movie, but as I mentioned it's a classic and a much loved one. It's a fun movie to check off your list.
Hot Tub Time Machine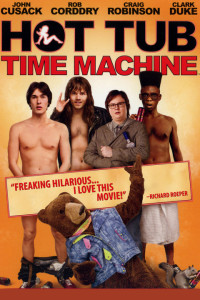 My final recommendation is the  Hot Tub Time Machine. This movie is actually more of a comedy than it is a sci-fi. The reason I picked this is because it takes into account the moral debate about changing the future by changing the past and the buttery fly effect. If you ever go back in time, would you want to change certain aspects of your past? If you could change the past, should you? What are the possible consequences of changing the past? If none of that interests you, then don't worry it's still a very fun movie to watch.
There are of course many more movies out there which might be better picks as pure time travel movies, but I had to pick 5 and I picked the ones that I think you would enjoy and plus threw in some that will leave you scratching your head like Primer, or get you blown away by the ultimate time travel paradox like Predestination.
If you are a hardcore sci-fi person, then I would add to the list, Donnie Darko, Looper, 12 Monkeys, The Time Machine (1960,2002), The Butterfly Effect, Source Code and Edge of Tomorrow. If you agree or disagree with my list, please leave a comment below, like and share!