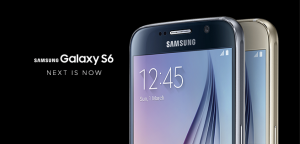 By now I'm sure you have already seen " The Next is Now " ads from Samsung. The Galaxy S6 and S6 edge is the biggest change to the Galaxy S series.
Samsung made amazing feature-packed phones that were comfortable in the hand and very functional but always lacked in the aesthetics department according to critics and consumers alike.
New Premium Design
Now with the Galaxy S6 and the S6 edge, Samsung has geared to move away from the "cheap plasticy design" . The Galaxy S6 has been redesigned completely. Even the code name for the phone was "Project Zero". The plastic is gone and it's replaced with an all glass and metal design that honestly looks gorgeous and feels premium to the touch. I was a bit skeptical at first, but after using the Galaxy S6 edge for a week, I am beginning to love this phone. The premium design of this phone is everything.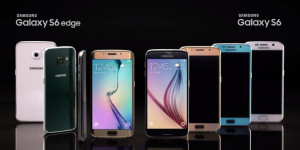 There are two version of the phone. Galaxy S6, which is the flat 'vanilla'  phone that everyone is used to and Galaxy S6 edge which has a dual-curve display, the first of its kind.
The Galaxy S6 comes in four colours: White Pearl, Black Sapphire, Gold Platinum, and Blue Topaz. The Galaxy S6 Edge will comes in four colours as well: White Pearl, Black Sapphire, Gold Platinum, and Green Emerald. I personally find the Green Emerald the best looking out of all. My second best is Black Sapphire, which is what I have because the Green Emerald is not out in Canada yet – we might not even get it. Regardless of which one you get, they are all beautiful premium looking colours. I was thinking of getting the Note 4, but when I saw how beautifully the S6 edge was designed and how elegantly it reflected light, I knew I had to get it.
This is the first time I have picked look and feel over practicality.
It is mesmerizing to watch the light bounce off from the phone's back and front(top and bottom). But the beautiful glass and metal design comes with some drawbacks. It feels smooth in the hand but it also feels a bit delicate. I have heard people say that they're always afraid of dropping it. Even imagining the all glass phone slip and fall from the hand is a very scary. It is also very sleek and slides off even with the slightest incline on any surfaces. I have dropped my phone 3 times in the past 1 week already – not from my hand, but from the edge of a sofa, table and chair. I have to mention that the Gold Platinum colour is a fingerprint magnet.
The edge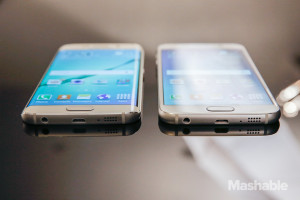 The S6 edge and S6 are identical in terms of specs and almost identical in terms of software. The edge's screen curves on both sides. It also costs a $100 more than the S6. At first I thought I am not going to spend a $100 on something I have no use for and even now it is true; the edge has no practical use. It is purely for aesthetics. There are some features specific to the edge but they're superficial and gimmicks at most. The edge can display the time and news updates when you rub your finger against it and it can also act as a night clock – none of which I have any use for. You can pick 5 of your favourite contacts which you can swipe from the edge to call, email or text. I have found this useful, but it is definitely something I can live without.
So why did I buy the S6 edge and not the S6? The edge despite having no practical use, is just simply gorgeous to look at. It feels very different and novel in my hand. It's unlike anything I have experienced with a phone. Sliding your fingers or thumb  to swipe right or left has that unique  hard to describe wow factor and is a joy both to the sense of touch and sight. The way objects on screen curve in from the edge or disappear into it is something that once you get a taste of, you will never want to go back to the plan flat screen – who wants that now? Not me. Videos also look better on the edge. It almost seems like videos are hovering slightly above the phone. It's one of those things you have to actually experience it to know.
So is the extra $100 worth it? YES! I'll be keeping my phone for at least 2 to 3 years and although I want functionality, I also want something that I will enjoy.
No removable battery, No mirco SD card slot – A no go for some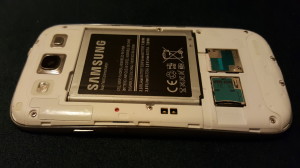 Before the Galaxy S6, Samsung had always boasted having in their phones removable battery and expandable memory with a micro SD card slot. But this meant that their phones had to be made of plastic so that people could easily remove the back which a lot of people found to be too cheap looking. I owned a Galaxy S3 and I thought the plastic back was fine and I say that it did look beautiful. I cannot say the same for the Galaxy S4 or Galaxy S5.
Samsung ads in the past even made fun of people who owned other phones without a removable battery calling them "Wall Huggers", so the move to not having the option to remove the battery was a surprising one but it was something that Samsung had to do to make the S6 a 'premium' designed phone.
Even I was a bit disappointed and almost bought a Note 4 instead of an S6. What changed my mind was the new beautiful design, fast charging, better finger print scanner, awesome camera and built-in wireless charging.
The S6 and S6 edge comes in 3 sizes, 32GB, 64GB and 128GB. I had 32GB on my S3 and never carried a micro SD card so I bought the 64GB because of bigger files for the 4K video and larger photo file size.
Battery life isn't that great, I have heard from other people and I have experienced it myself, but the fast charging compensates for it…sort of. There is a Galaxy S6 battery pack too, although I haven't seen it in any stores yet. I might find this useful as I always carried a spare battery with me.
Camera
Samsung phones have always had great cameras and the Galaxy S6 is no exception. In fact it has one of the best camera phones out there. It has a 16M rear facing camera with optical image stabilization,  f1.9 aperture for better low light results and a 5MP wide angle front facing camera which is great of group selfies. I have found the front facing camera to have a bit of distortion. The rear facing camera seems to have it too. You might not light it if you are too picky otherwise it can hardly be noticed.
Another great feature that hardly gets mentioned is double tapping the home button quickly launches the camera. It's one of those things you don't know you need until you have it.
Fingerprint Scanner
The S6 fingerprint scanner is 'touch to authenticate' and is a definite improvement from the Note 4's awkward swipe method.
Wireless Charging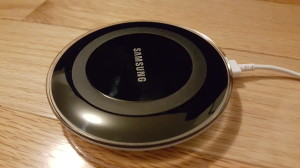 At first this was something I didn't really care about until I started using it in conjunction with upload Camera roll to One Drive while charging.(check out my article on how One Drive can be useful "Home Media Server and Cloud – Plex and One Drive"  section.) Normally I prefer fast charging, but if I quickly want to upload my pictures to OneDrive, I just place it on the wireless charger and bam! I'm charing my phone and uploading photos at the same time.
Built-in wireless charging also means this phone is future proof. Check out my article on Current trends and possible future of wireless charging. 
Processor and Ram
The Galaxy S6 packs a Samsung Exynos 1.5GHz  octa-core and 3GB DDR4 RAM. That's geek for "it's insanely fast"!
Display
It's a 5.1 inch 1440 x 2560 pixels (~577 ppi pixel density) Super AMOLED capacitive touchscreen. That's geek for "super awesome looking screen" and frankly it is super overkill too. I doubt that anyone can tell the difference between that many ppi vs Note 4 or Iphone 6. But do I like it? YES!
So that's my take on the Galaxy S6 and S6 edge. If you're reading this, you might be wondering if you should upgrade or not. That's a tricky question. I was always a function over form kind of person and this phone changed that. If you have an android phone that is older than a year or 2 years, I say yes, definitely upgrade. If you're tied to the apple ecosystem and have an iPhone. This phone was designed to lure in iPhone users and I can confidently say most of you will be pleasantly surprised by the S6 edge. However, if you own a phone that's less than a year old, my recommendation is to just wait at least a year. The new Iphone and Note 5 will be coming out this year. Finally if you are one of those people who need to get the latest and most cutting edge tech then yes definitely get the Galaxy S6 edge, it literally has an edge over every other phone,… in fact it has two!