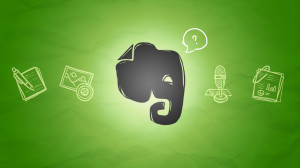 I'm going to get right to the point with this one because there is no argument about Evernote being the best note taking tool/software/service.
What sets it a apart from all the others is its speed, simplicity and stability.
It has had some hiccups in the past, but overall it has been one of the most stable apps/services.
I'm not always too keen one using external products or services especially if it is software related. Even at Okinara, we try to keep it in-house as much as possible, knowledge base, issue tracking system, development servers etc..
However, I am personally relying more and more on Evernote now and so is my business.
Multiple Platforms
Evernote can be used on multiple platforms: android, iphone, ipad, windows, web and mac.
Seamless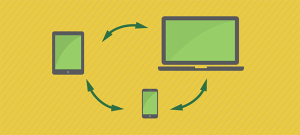 The synchronization on Evernote is one of the things that keeps no loyal to Evernote. I can start my note on my Macbook Pro, and then continue on my Android phone, add or remove something on my Linux based server and continue the process by adding a few more notes on my tablet during my meeting with a client. All this happens seamlessly without any hiccups.
On the off chance that there are some synchronization issues for example if I made some changes on my laptop which did not have internet connection at that moment and then I went and made some changes on my phone which did have Internet connection, so now the second modification will get applied to the note on the Evernote server, but when I go back to my laptop to make chances and this time it has internet connection, there will be a conflict. Evernote is smart enough to know that there is a conflict. It will save both notes and prompt me to take a look.
It's a very smart and practical app.
KISS – Keep It Simple, Stupid
Notes are organized into Notebooks which can only go deep to two levels – a parent notebook book with many sub notebooks which can have many notes.  Each note can also be tagged with one or more tags. Using the combination of these two methods keeps the very simple and basic Eernote seems sophisticated.
If you need a deeper structure (sub category of sub categories and more), you can actually accomplish that with Evernote with notebooks and tags. If I get a chance and if there is demand for it, I'll write an article on it.
The interface is also very simple. On the web, mac and windows, there are notes on the left and note details on the right. The notebook window simply displays all the notebooks that you have. In contrast One Note is packed with tonnes of features but can quite difficult to navigate and at a certain point it has too much going on for its own good. Then there is Google Keep which just over simplifies everything and is a very weak service/app for what you might want to do with your notetaker.
Types of Notes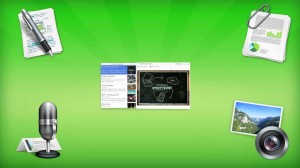 Evernote can record text notes, voice notes, images from your phone and attachments. It can even take hand written notes. This is something that can compete with the Note 4's handwritten memo. This is one of the secondary reasons I chose to go with Samsung galaxy S6 (check out my take on the Galaxy S6 and S6 edge.   instead of the Note 4. If you want to get the the doodling feature of the Note4 on a phone that is not Note 4, then you can simply use Evernote.
Other useful features
Reminders – you can turn any note into a reminder and even set a due date

web clipper for chrome
Comes in 3 versions – which one is right for you?
free
all the feature I mentioned above
60MB uploads
plus
All the features of the  free version plus:
$24.99/ year

1GB uploads

pascode lock

forward important emails directly to your evernote
premium
$49.99/year

unlimited uploads

do more with pdfs – can annotate them

version tracking

scan business cards

search in office documents

create slides for presentation
Other uses of Evernote include:
keep notes

act as a knowledge base

keep track of meetings and agenda

shopping list

journal

photo journalism – quick snap to make a note

recipe book

project management tool

CRM
That's my take on the Evernote. Do you have any other note taking service that you would like me to review. Please add a comment below, like and share this post if you find it useful.
Comments
comments